Academics' Choice Award™ Winner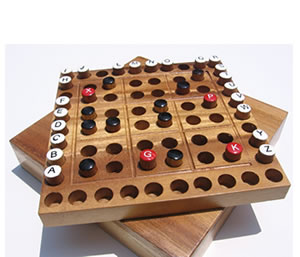 Mentagy Book & Puzzle
Ages: 8 and up
Price: $35.99
Type: Game, Puzzle, Book
By
Pasco Games
Description
The award winning Mentagy Puzzle™ set contains a series of puzzles whose solutions each use all the letters of the alphabet in a grid consisting of nine 2 X 2 boxes. Solving these puzzles exercises your brain and boosts your logic and creative thinking skills. The Mentagy Puzzles™ range from beginner to advanced, and are fun for all ages from 8 to 98.

"This set includes a paperback book loaded with Mentagy Puzzles™ that can be solved right on the page, BUT, it is so much more fun to solve them in 3 dimensions using the hardwood game board and pieces that are included. Your brain will thank you!" - Tillywig Toy Awards

Fun and educational for students from elementary school through college, teachers, seniors and occupational therapists.

Watch how to play Mentagy and how it is used in Occupational Therapy.
Review Highlights:
Mentagy is a great puzzle, a sort of sudoku of letters. The hands on aspect of pegs and holes is more satisfying than paper and pencil and engages the brain in different ways. My 7 year old was able to play the simple puzzles after some hands on explanation. A great sturdy little puzzle that I am sure our family will enjoy for years to come.
The Mentagy puzzle book has 101 puzzles to solve, ranging from Beginner to Expert levels and comes with necessary instructions. Mentagy is a fresh new approach to puzzles and makes for a great brain workout. The time it takes to solve the puzzles varies with skill level making it a versatile activity. This game is intended to develop problem-solving skills and help children exercise to improve chess skills. The game is very innovative and is sure to captivate players' minds for hours. It is known to help spur creativity and improve the sharpness of the mind. The deluxe hardwood version of Mentagy takes the puzzle solving to a next level by offering a physical board with wooden pegs. No need to have an eraser, and the size of the board is very convenient to hold. This is an heirloom quality game for a bargain price, which is very powerful and engaging for ages 6 and up!
Buy this product at:
As an Amazon Associate we earn from qualifying purchases.