Academics' Choice Award™ Winner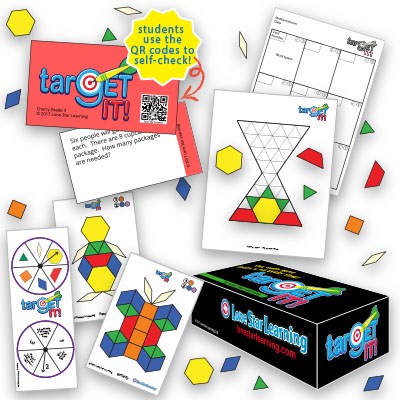 TarGET IT!
Ages: 7 - 11
Price: $49.99
Type: Game
By
Lone Star Learning, Inc.
Description
Designed to provide students with a fun way to practice tested math skills, TarGET IT! hits the bullseye every time! With a variety of playing options, this game will never grow old. Teachers love that these options allow for differentiation for students all year long.

Can be played in pairs, small groups or large groups.
Pattern Block puzzles become the game board.
Students can self check answers with QR codes.
Customizable with spinner options.
New Seasonal options and updates available to users to keep the game new every time.


Review Highlights:
TarGET IT! provides math practice in a game format. Tied to grade level standards in Texas, it covers a wide variety of topics. A chart was provided that shows the topics practiced in each set of cards, allowing the teacher to choose the most appropriate set for play. Students are able to play the game independently because of the scannable codes on the cards that link to the answers.
My students really enjoyed playing the game and found it much more fun than book work, although they were working the same type of problems. I like the variety of game play, too. Because there are different ways to play the game, it will stay novel longer. There is a nice range of math topics on the question cards.
My kids were intrigued by the foam shapes and the spinner. It allowed my kids to review a wide variety of math skills and math knowledge taught within the Texas educational system. They enjoyed picking the questions out of the box and seeing if they could figure out the answer.
Buy this product at:
As an Amazon Associate we earn from qualifying purchases.