Academics' Choice Award™ Winner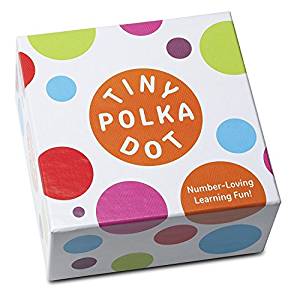 Tiny Polka Dot
Ages: 3 - 8+
Price: $14.95
Type: Game
By
Math for Love
Description
Introducing Tiny Polka Dot, the colorful card deck that grows with your child. With 16 easy-to-learn games that playfully teach math, from counting & early numeracy to arithmetic & logic, Tiny Polka Dot is the perfect way to nurture your child's love of math: through play! Mathematician-designed and teacher-approved, Tiny Polka Dot is the playful way to fall in love with numbers.

Made in the US.
Recommended Age: 3 - 8+
Players: 1 - 6
Time: 5 - 15 minutes


Review Highlights:
Students practice counting, number sense, addition, subtraction, subitizing and making tri-bonds and more. This product has many uses with the 16 games. I like the durability of the cards. They are nice and thick-so they won't bend easily. The age level is 3-8 years old with players numbering 1-6. This will make it great for my Kindergarten classroom. I also enjoyed the vibrancy of the colors on the cards. My Kindergarteners' thoughts: "I liked that it was learning math, I liked that it was putting numbers in order, it helped me a lot, we all worked together. I liked the whole thing, and it helped me learn."
My students practiced problem solving, number recognition, and early counting. The cards are durable, and I liked that there are many variations of the game. It's an attractive design and I really liked that it can be used by one player or up to six so it's great for family-time or small student groups.
Buy this product at:
As an Amazon Associate we earn from qualifying purchases.