Academics' Choice Award™ Winner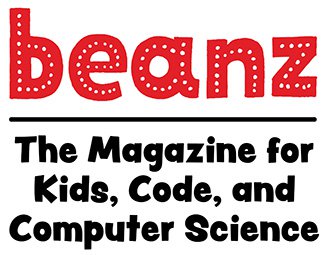 beanz Magazine
Ages: 8 and up
Price: $6/issue or $29.99/year for 6 issues
Type: Magazine
By
Owl Hill Media, LLC
Description
beanz Magazine is the retitled Kids, Code, and Computer Science magazine first published online August 2013 and in print starting February 2015. beanz magazine is a bi-monthly online and print magazine about learning to code, computer science, and how we use technology in our daily lives. The magazine includes hard to find information, for example, a list of 40+ programming languages for education, coding schools, summer tech camps, and more. Each issue includes stories about secret codes, Minecraft, Scratch, robots, electronics, and more.

Review Highlights:
My eleven year old son is totally captivated by the zany and informative articles. It's written in a friendly way so you don't have to be computer/coding expert to enjoy the magazine. I like it because it will help us stay abreast of the latest technologies, languages, platforms, and other industry changes. As a added bonus, it's great reading practice, as he doesn't really enjoy traditional storybooks.
The magazine teaches students about coding and it's various applications. It motivated my students to learn more about coding and computer sciecne. Beanz helped them understand how coding applies to their interests. The photos and illustrations are colorful and lively. There was a variety of topics covered in an interesting way.
The magazine teaches about computer science, things such as coding and robots were discussed. I liked that it teaches how math and other skills are used in the computer science field. It's educational, but interesting, which is great for kids.
beanz Magazine teaches computer programming in a fun, engaging way. Each article is on a different subject however they all tie in well to computer programming. This makes it fun and interesting to read.
Buy this product at: