Academics' Choice Award™ Winner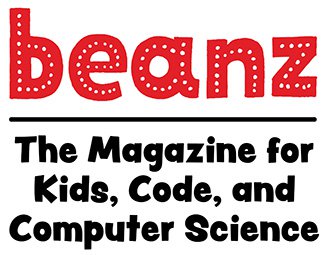 beanz Magazine
Ages: 8 - 12
Price: $6/issue or $29.99/year
Type: Magazine
By
Owl Hill Media, LLC
Description
beanz magazine is an award-winning print + online magazine. It's the perfect gift for kids who want to learn about coding, computer science, and how we use tech in our daily lives. It's hands on, quirky, and fun.

beanz Magazine is the retitled Kids, Code, and Computer Science magazine first published online August 2013 and in print starting February 2015. beanz magazine is a bi-monthly online and print magazine about learning to code, computer science, and how we use technology in our daily lives. The magazine includes hard to find information, for example, a list of 40+ programming languages for education, coding schools, summer tech camps, and more. Each issue includes stories about secret codes, Minecraft, Scratch, robots, electronics, and more.


Review Highlights:
In addition to reading, kids have the opportunity to engage in critical thinking, reasoning, and logic as they explore the worlds of coding, computer science, and all things STEAM. The articles in beanz Magazine teach children about history, technology, electronics, engineering, and computer science. As kids work to apply what they read about in the articles, they will employ mathematical skills, science-related skills and knowledge, as well as art skills.
Kids who are reluctant readers may find a "home" with beanz Magazine. When kids are passionate about a topic, they are more willing to read about it. I love the symbiotic relationship beanz creates for kids with reading and STEAM topics. And it works both ways. Just as a reluctant reader who loves coding may pick up an issue, a child who simply loves to read but isn't (yet) interested in coding/computer science may pick up an issue. It's fantastic.
I LOVE that beanz makes topics that are typically intimidating (especially for newbies) completely approachable and kid-friendly. Even novice coders or those just dipping their toes in the STEM waters will find a project, an idea, or a concept that appeals to them in each issue. As a former teacher turned homeschooling parent, I LOVE (love, love!) when cross-curricular learning takes place. Each of the projects and ideas included in beanz require a child to employ cross-curricular skills. A child isn't simply coding or creating a Roblox account. Kids are using math, science, art, or critical thinking. I am also excited about exposing kids who may simply be interested in "gaming" into the world of coding through beanz Magazine. This magazine is a wonderful bridge and jumping off point for kids to develop their existing interests, and push them to a higher plane.
My eleven year old son is totally captivated by the zany and informative articles. It's written in a friendly way so you don't have to be computer/coding expert to enjoy the magazine. I like it because it will help us stay abreast of the latest technologies, languages, platforms, and other industry changes. As a added bonus, it's great reading practice, as he doesn't really enjoy traditional storybooks.
The magazine teaches students about coding and it's various applications. It motivated my students to learn more about coding and computer sciecne. Beanz helped them understand how coding applies to their interests. The photos and illustrations are colorful and lively. There was a variety of topics covered in an interesting way.
The magazine teaches about computer science, things such as coding and robots were discussed. I liked that it teaches how math and other skills are used in the computer science field. It's educational, but interesting, which is great for kids.
beanz Magazine teaches computer programming in a fun, engaging way. Each article is on a different subject however they all tie in well to computer programming. This makes it fun and interesting to read.
Buy this product at:
As an Amazon Associate we earn from qualifying purchases.