Academics' Choice Award™ Winner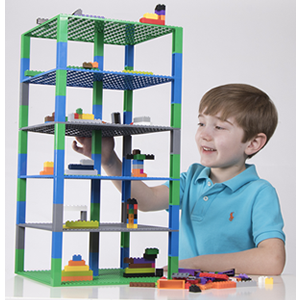 6-Pack Brik Tower 10"x10"
Ages: 5 - 12
Price: $29.99
Type: Toy
By
Strictly Briks
Description
Stackable Baseplates let your imagination run wild! Take creative building to the next level! Stackable baseplates make building vertically quick and easy. Build something that stands out from all the rest. You can stack 'em up or use them as the base for endless creations. Patent Pending.


Review Highlights:
This set allows for limitless creative play, teamwork, engineering skills, fine motor skills, imagination, and more. It also allows for practice with following directions, design/copy skills, etc. I love the bright colors and innovative idea of building a tower to knock bricks out in a game form. I also love that it is compatible with other brands.
I liked the problem solving and creativity that came from the brick tower. It also builds fine motor skills. For my younger son (6) it required cooperation with a parent or older child and patience. In balancing the levels they were also practicing critical thinking and engineering skills.
The Brik Tower encourages creativity and allows children to use other brick type toys in a new way. I like that it works with other brick toys we already own (both Lego brand and other brand bricks). The base plates feel solid and create a large playing space when laid flat. They enjoyed building tower buildings and I believe this item will have a good deal of replay value.
I really like this toy and feel like it would be a great addition to any brick set. The baseplates can be used on the floor or as a tower. My boys enjoyed making a zoo with the different colors being different pens and also enjoyed making the tower. I would put the age range a little higher than the manufacturer for independent play, probably 8-12 instead of 5-12, but a 5 year can do it with help.
Buy this product at:
As an Amazon Associate we earn from qualifying purchases.