Academics' Choice Award™ Winner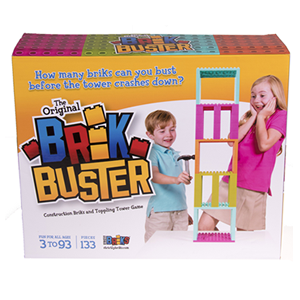 Brik Buster
Ages: 3 and up
Price: $29.99
Type: Toy, Game
By
Strictly Briks
Description
Competitive fun for the whole family (or kids on cul-de-sac) this unique tower toppling game was designed by kids. To play, everyone takes turns hitting the support pieces with the included hammer, trying not to make the tower fall to the ground. The last person to knock out a brik without toppling the tower wins! (Just don't be the one to knock the tower down). Test your skills and strategies, play best-of-three, or create your own variation of the game.


Review Highlights:
We love this game and it has already been used for a wide variety of fun in our house. I would buy it as a gift for sure! This set allows for limitless creative play, teamwork, engineering skills, fine motor skills, imagination, and more. It also allows for practice with following directions, design/copy skills, etc.
In the box is 133 stackable pieces that are compatible with all major brick building brands! (HUGE bonus here!) That's enough bricks to create a 5 story tall tower! This makes a great team building effort before the competition begins! The set also includes a small plastic hammer. The basic idea of the game is to build a tall tower, take turns using the hammer to knock pieces out, and the one who knocks down the tower loses. It's really a simple game with a spin off of classic "tower building" games but I love that it incorporates building bricks for an extra layer of engineering. It's not just a simple "stack a block" routine. There are various ways to flip the bricks, different color patterns you can create, etc.
The boys saw the bricks and ran right over to start building their own tower! I love the bright colors and innovative idea of building a tower to knock bricks out in a game form. I also love that it is compatible with other brands.
Strictly Briks allows kids to practice their visual-spatial skills as they work to fit the pieces together and create structures. Strictly Briks encourages fine motor development, as well as creativity.
The colors are bright and pleasing, and the pieces are easy to fit together. It is wonderful that Strictly Briks are compatible with LEGO bricks. It is wonderful when you can integrate existing toys into new toys seamlessly.
These were a HUGE hit with all four of my children. We will be customers!
Buy this product at:
As an Amazon Associate we earn from qualifying purchases.