Academics' Choice Award™ Winner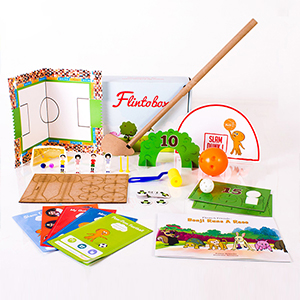 Flintobox
Ages: 2 - 12
Price: INR 595/box - 795/box depending on the subscription
Type: Toy, Book, Arts & Crafts
By
Flinto Learning Solutions Pvt. Ltd
Description
The mission of Flinto is to revolutionize the way children around the world learn and play. For this, we create products, tools, content and activities that promote rich early experiences.

Flintobox is an age-appropriate monthly subscription box to engage children aged 2-12 meaningfully at home. Each box is loaded with play-based activities to promote holistic growth and development in a fun way. One single Flintobox contains 3-5 experiential activities to address 16 developmental areas in a child. The research-based activities are crafted by child psychologists, game designers and pedagogy experts to make learning fun for children, thus keeping them away from TV and gadgets. With a new theme every month, this product is designed to recreate the curiosity and creativity that children are losing in this digital world.

Over the last 4 years Flintobox has changed the way more than 4 Lakh children across 700+ cities learn and play.


Review Highlights:
Each box contains a plethora of developmentally sound play-based activities! The variety of activities each month provide a great way to discover your child's natural interests and creative inclinations. I applaud Flintobox for addressing a real problem parents encounter in our screen-obsessed world. Flintobox provides a healthy, imagination-rich alternative to simply loading an app and keeps it simple and easy with monthly deliveries of fun projects that foster cognitive and social development.
In the Little Architect box preschoolers get introduced to simple home building, landscapes, decoration, shapes, colors, counting, matching activities, and even neighborhood layout/design - including roads!
Each box typically contains five or six different activities that foster the imagination, help children identify with the adult world, involve creative arts and crafts projects, and can often be completed independently with limited parental oversight. Most boxes also contain some fun games that are meant to be played in groups.
Clearly, these themed boxes and actitivies were carefully curated by child development specialists. At the preschool level, pretend play and creativity are highly encouraged. Foundational thinking skills are a key component of each box. The semi-structured approach excites the student to begin each activity, but does not limit their imagination as they are mostly open-ended, providing plenty of opportunity for free play as they explore and experience the world around them.
Buy this product at:
As an Amazon Associate we earn from qualifying purchases.