Academics' Choice Award™ Winner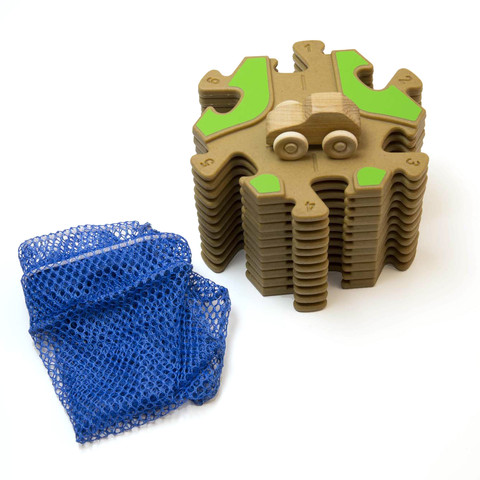 Tobo Track
Ages: 3 - 7
Price: $49.95
Type: Hands-On Toy
By
Tobo Toys
Description
Tobo Track is an exciting and innovative new way to build roads and tracks for toy cars and trains. 12 identical pieces are included with each set (as well as a handmade wooden car and mesh storage bag), and can be joined together in hundreds of ways to create a track that goes anywhere you want it to. It also works with Thomas, Hot Wheels, Brio, Matchbox and more. Unlike traditional linear tracks, every hexagonal Tobo Track piece has a straight section, a curved section and an intersection – and can be connected to any edge of any other piece. This means that creativity and decision making are cultivated, and skills like spatial awareness, and dexterity are refined.

There are also numbers on the connector edges of every piece. These are used to improve numeracy and even to practice simple math games during track play. There are many ways these numbers can be incorporated, ranging from number identification, to adding/multiplying numbers as you drive across tracks, or even assembling the track according to certain number combinations.

Tobo Track is made from an exciting new injection mouldable wood. The track itself is 100% wood material, with no plastics, resins, binders, glues or anything synthetic or chemical. This makes it a very safe toy to play with (no plasticizers, hormone disruptors, toxins, etc.), but also means that it is a smart choice for the environment. The material is recycled, so no trees were cut down to make Tobo Track. The optional green stickers are fun to put on, help delineate the track areas, and are made from BPA-free polypropylene.

Its a fun way to learn and use creativity while playing with toy cars and trains!
Review Highlights:
The toy consists of 12 track pieces with six possible orientations each, a wooden toy car, sticker set and a mesh bag for storage. The tracks are wide enough and compatible with various other types of cars and trains, which makes it versatile. The tracks are made of compressed wood and lignin, and are safe and without any chemicals. This a is simple toy that any child of 2+ years old can enjoy playing. This is from a new company that is proud to manufacture toys made of scrap wood for safer to play with that its plastic counterpart.
Overall we are very pleased with this new toy, and it definitely provides fun and extra activity for our daughter. However, we wish pictures of various possible orientations were provided. Also, it would have been great to have a couple more track pieces in the set to be able to build a longer track, but hopefully they will be available for purchase. This is a new company and we are eager to see what other great products they will create.
Buy this product at:
As an Amazon Associate we earn from qualifying purchases.