Academics' Choice Award™ Winner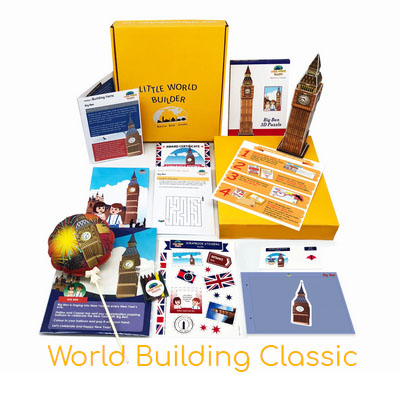 World Building Classic
Ages: 6 - 11
Price: $23.56 USD/mo. (Subscription)
Type: Toy, Book, Game, Arts & Crafts
By
Little World Builder
Description
World Building Classic is one of our architecture editions that inspires and teaches children aged 6-11 about buildings around the world, with hands-on activities and learning materials included in the themed kits. Each month the child receives a world building themed kit starting from Big Ben, then Taj Mahal, Leaning Tower of Pisa, Hall of Supreme Harmony, Empire State Building and Sydney Opera House.

Big Ben themed kit contains stickers, collectable cards, a craft, fact card, activities card, postcards and a 3D puzzle of Big Ben.

1) Hailey's Building Notes - This is a fact card of the building that main character, Hailey, has taken note during her visit, and then shared to the child who was sent the Big Ben themed kit.

2) Builder Activities Card - This is an activities card that children would boost their knowledge of the building.

3) Postcard - A postcard sent to the child from the main character, Hailey about their fun moment and their experience while visiting the building.

4) World Map - This world map is designed to show all the countries and their capital cities, and some other cities where our world buildings are from, so children get an understanding geographically of whereabout these our world buildings are.

5) This Activities sticker has stickers that needed the child to stick on their building activities - map sticker on the world map, award certificate sticker on their award certificate card, and finally 3 stickers of building's facts that needed the child to stick on their 3D puzzle base.

6) 3D Puzzle - This 3D puzzle has an easy-to-follow instruction leaflet that is children friendly. The construction method is push and slot, to build the world building. This has been designed for children to gain a physical and spatial understanding of the building, most importantly to enhance the skill sets of logical thinking, problem-solving, and concentration during the build process.


Review Highlights:
Little World Builder excites young learners with geo journeys around the globe as they construct some of the world's most impressive structures. Your child will be guided by Hailey and Caesar, siblings who are on a journey of discovery. Big Ben is your first stop! My kids loved this kit. The 3D model your children will build is durable and the pieces easily pop out and fit together really well. The instructions were so clear my chidlren were able to assemble the impressive looking model with minimal assitance. The little details included in the kit are outstanding! From the "VIP Admission Ticket" to the Great Tower to the postcard from Hailey and Caesar eluding to next trip to India, this kit makes kids (and adults) feel like they just took a vacation to the north end of the Palace of Westminster in London. From a teaching standpoint, this is a wonderful STEAM activity that also includes geography!
The cross-curricular kit includes everything you need to immerse your children in an educational fieldtrip to Big Ben, including a 3D puzzle to build, activity book, fact cards, a world map and even a set of crayons. My kids loved building the realistic looking model. They also loved the self-inflating balloon, which students get to color first, and then pop it as if celebrating the new year with Big Ben. The fact cards included interesting historical tidbits about the builders of the Great Tower (now Elizabth Tower), the Great Clock, and Big Ben (the bell). This activity kit not only inspires little builders and world exploration, it teaches and reinforces so many skills including creativity, critical thinking, spatial reasoning, fine motor skills, hand-eye coordination, reading, writing, math, cooperation, recall, grit, geographical awareness, and architectural appreciation to name just a few!
I appreciated the thematic problem-solving activities and short quiz to ensure the historical information was learned and retained. The Award Certificate was also a nice touch. My daughter now has the map of the world hung on her wall, marked with location of Big Ben (and other buildings she has seen) and eagerly awaits her fieldtrip to the Taj Mahal!
Buy this product at:
As an Amazon Associate we earn from qualifying purchases.